- CRM & BI
Is Ion Enterprise Technologies CRM a Good Pick?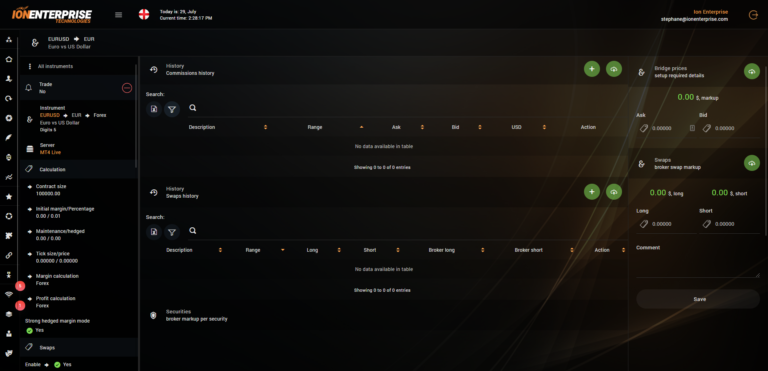 Ion Enterprise Technologies Ltd is a global provider of customizable business management software. The company's web-based solutions provide small and mid-sized clients with the necessary framework for them to carry out their operations. The focus of this review is the company's Forex CRM. Designed to meet the specific needs of FX brokers and white labels, the platform fully integrates with both MT4 and MT5.
The CRM's Interactive Dashboard
The dashboard provides an up-to-date overview of a number of key parameters for any Forex broker. Users can see information regarding the deposits and withdrawals; the number of new live, demo, IB and MAM accounts; closed trades PnL and floating PnL; FX and CFD traded volume; number of conversions; and more. All data is displayed in several currencies, in weekly and monthly timeframes. Charts and graphs are used for the purpose of better visualization. 

The Client & Account Management Sections

A number of filters enable clients and leads to be searched through different criteria. A context menu allows quick access to the details of each trader. The panel includes important information like profile status (active, pending verification, etc.); classification (retail or professional); client status (active, idle, etc.) and compliance status.
Liking this review so far? Check out Our Services to see how we can help You!
This section provides the necessary framework for a broker's employees to monitor and control every aspect of the account management. The filters in this section allow for fast and efficient work. In a list view, accounts appear with personal data (names and email), corresponding group, base currency, margin, type (regular, IB, MAM, etc.), execution type (A-book or B-book) and more. Among other details, system users also see the equity and balance of each client. Some of these parameters can be directly modified from the CRM without the need to do anything in the MT4/MT5 Administrator.

The Client Events Tab
This is the place where all client-related developments appear. The section covers a wide range of events, including but not limited to new accounts opening requests, new documents upload, a profile edit and request for change in account categorization. It is quite important from a broker's perspective to have a broader look at what clients are up to, and this is exactly what this tab enables. The integrated reminders help company employees not to miss on any of their pending tasks. This, of course, has a direct effect on customer satisfaction and thus, on an online broker's revenue.

The CRM's Rich Reporting Section
Having a really broad look on different aspects of trading activity is of key importance for every company operating in the Forex and CFD industry. For this reason, having a decent reporting section is absolutely crucial. Ion Enterprise Technologies have made sure that the Risk and Dealing departments can zoom into every detail in this respect.

Some of the key reports integrated on this platform are the transactions report, the trade allocation per symbol report, the revenue report, which can be generated per trade, per client, per account, per LP, and per group, the open trades report and A-book and B-book clients reports among others.

The Introducing Brokers Panel 
The Ion Enterprise Technologies CRM has a special place for the IB side of the business. The existing introducing brokers appear in a separate subsection. Accessing an account gives a comprehensive picture over the entire activity of the entity. This includes total volume traded through his referrals, the rebate earned and paid so far, his commission level and a full list of his referrals and their trades.
The panel allows for the quick administration of introducing brokers. Moving IBs to a different client group, promoting them to a higher commission level or demoting them back to a lower one, changing their execution type, monitoring and dealing with their referrals, etc. are just a few of the functions that the introducing brokers panel allows.
Security
Ion Enterprise Technologies knows the importance of security in the Forex and CFD industry. For this reason, they have taken the necessary steps to protect the financial and personal data of their clients. Their CRM features an advanced encryption technology which provides the necessary scalability and efficiency in guarding sensitive information. Multi-factor authentication is mandatory for all users. Last but not least, the platform allows you to grant different levels of access to employees according to their seniority and position. The ability to manage privileges on an individual and group level adds up to the overall high level of security of the CRM.
Customer Service
The company operates a 24/7 support service in multiple languages. Customer care agents can be reached by phone and email. In order to be better fit the different needs of its clients, the technology provider has split its support team in two parts. One for dealing with general enquiries and the other for dealing with more complex technical stuff. In our interactions with them, we have always received prompt, professional assistance.
Final Thoughts
Ion Enterprise Technologies offer a high-class Forex CRM, flexible enough to meet the needs of almost every online broker and white label. Their proprietary web-based platform fully integrates with the world's most widely used retail trading platforms, the MT4 and the MT5. All the applications, tools and reports integrated in the CRM provides users with the entire arsenal needed for full control of their business. In addition to that, the platform's security is solid, and the customer service is fast and reliable.
FTT Score
Based on the review above, on a scale from 1 to 10, our FinTechTycoon expert score is a well-deserved
8.
Did you find our review useful? Check out Our Services and see how we can help!