- CRM & BI
Could B2Core CRM Become the Core of Your Business?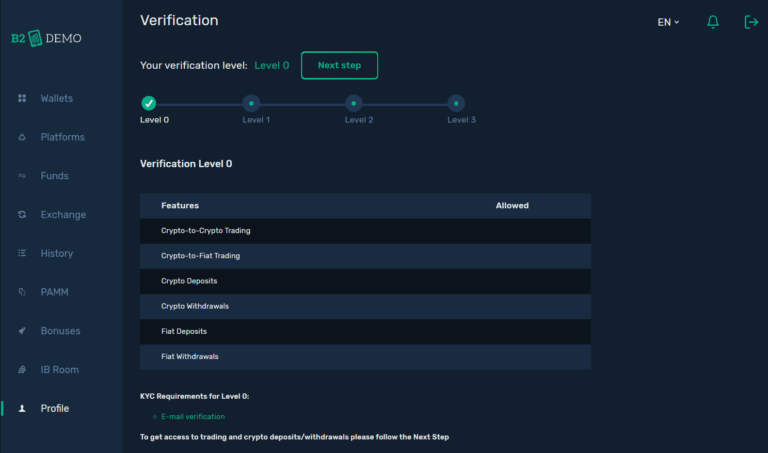 B2Core is best known for its liquidity provision services to banks, Forex and CFD brokers and exchanges. There is another aspect of its business though that will be the subject of our scrutiny this time – B2Core CRM. B2Core's CRM combines a client's cabinet and a back office system tailored for the needs of online brokerages. The software is reportedly used by 70 companies which provide services to 500,000 traders in 15 different countries.
An In-Depth Look Into B2Core CRM
B2Core's system has an intuitive design and some useful features from both the broker and the client's perspective. As the company itself puts it, "the Trader's room is what your clients see while working with you, and this is where your employees operate with clients". While it allows a relatively high degree of customization, the rather simplistic functionality of the Trader's room makes it incapable of meeting all the needs of the different departments in an online broker. In this sense, it might not be a good fit to those looking for a complete comprehensive solution for their business.
The software allows traders to register, deposit and withdraw and the dedicated wallets give clients the chance to carry out their transactions not only in fiat currencies like USD, EUR, GBP, JPY and CNY, but also in crypto terms. The supported digital currencies are: Bitcoin, Bitcoin Cash, Ethereum, Ripple and Lumen. The system enables fiat to fiat and fiat to crypto exchanges rather quickly. Last but not least, the web-wallets are fully integrated with trading platforms including MT4, MT5 and cTrader.

The History tab is meant to provide traders and employees with various reports detailing the trading history, transactions, accumulated commissions and spreads. Instead, it does no more than just listing the transactions and commission history. In our view, this is insufficient to cover the corresponding needs of both clients and brokers' employees. This section definitely needs to be developed further.
PAMM Section and Leaderboard
The PAMM provides a simple yet effective framework for connecting investment accounts to master accounts. Put in simple terms, this is where people willing to put their money to work meet professionals with good trading strategies. Once the necessary accounts are opened, traders use the same portal to send deposit/withdraw requests, track their commissions, apply for additional accounts and more.

The Leaderboard located within the PAMM section provides an interactive look of the presently active trading strategies. Each one is shown with historical performance, return in the last 7 days, maximal drawdown, number of followers, etc. Clicking on a strategy's Statistics button would display a description accompanied by detailed statistics. As soon as one makes a choice, subscribing is really fast and easy.

Liking this review so far? Check Our Services to see how we can help You!

B2Core CRM has a dedicated place for the 'introducing brokers' partnership program, the IB module. Once registered as an IB, companies or individuals can start referring potential clients to use your brand and your trading services. As soon as a trader opens an account and starts trading, introducing brokers are entitled to receive a commission.

The IB module has a reporting section covering rewards and transactions. It also includes statistics of referral activity where one can track the number of visits and registrations. IB accounts can be nominated in both fiat and crypto terms. 
Customer Support
B2Core provides high quality 24/7 customer care services to its existing clients and has offices in Cyprus, Moscow and Hong-Kong. Inquiries can be handled in seven languages by phone, chat and email. Apparently, support agents are rather experienced professionals, as they readily deal with both easier and more complex issues, while it strikes that waiting times are kept relatively short.

Security
Security is one of the top priorities of any FinTech business, and for this reason, B2Core has made efforts to provide its clients with a secure and hack-free environment. The various measures taken to guarantee system soundness and stability include complex data encryption; two factor authentication; additional confirmation of each transaction; multi-level data backup; and protection against network attacks. It is also worth mentioning that the company has reportedly been conducting regular vulnerability tests with a large number of attempts to hack into each of the offered solutions. Hardly a surprise – the company states that the simulated attacks have so far all been unsuccessful.
Final Thoughts
In spite of being focused mainly on the liquidity provision side of the business, B2Core has also developed a proprietary CRM, in order to be able to meet this specific demand too and further try to close the circle for its clients. The platform has a lot to offer in terms of functionalities like: multi-currency wallets, PAMM, IB module, Leaderboard, etc. At the same time, the transaction history section needs improvement if it is to meet its sole purpose which is to provide adequate and well-structured financial data for analytical purposes. From a security perspective, the system is claimed to be stable, so brokers can rest assured that their clients' sensitive data is at a safe place. A professional technical support team adds up to the overall good user experience.
FTT Score
Based on the review above, on the scale from 1 to 10, our FinTechTycoon expert score is
6.

Did you find our review useful? If so check Our Services and see how we can help!